Discover Wishbox
Each WISHBOX showcases a unique theme and includes 5-7 items that are sure to delight. From cute and vibrant goodies to hands-on activities, we prioritize fun and steer clear of phones and iPads.
Crafting is a must in every box, whether it's making a resin necklace or painting a squish toy. Our curated stationery encourages self-expression while having a blast! Never miss a chance to dress up! Each box includes fun jewelry, hair accessories, and bags your girl can't resist.
Personalize the experience with a handwritten message for your tween girl. Don't forget to add your heartfelt note!
Experience the wonder of WISHBOX and make each quarter an unforgettable adventure for your tween girl. Subscribe now and unlock endless joy!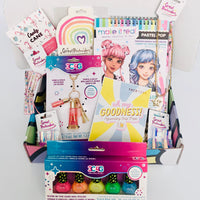 Give It As A Gift
Choose the Perfect Wishbox for Your Tween Girl's Birthday, Holiday, or Any Occasion. 
Personalize Your Wishbox with a Handwritten Note by Our Team.
Delight in a Fun, Colorful, and Useful Wishbox.
Order now as quantities are limited.
Shop Now
Subscribe to Quarterly Wishboxes
Sign Up and Subscribe to Receive Quarterly Wishboxes for Your Tween Girl.
Every Three Months, a Wishbox Will Arrive at Your Doorstep for Your Tween Girl to Enjoy.
Unwrap the Fun, Colorful, and Useful Goodies in the Wishbox.
Order now as quantity is limited. 
Subscribe Now
Testimonials
Great subscription box, has a variety of different things that any girl would like. Great to gift for birthdays as well.

Bella and Hammy
The glittery wishbox is perfect for the girls who love to sparkle. In my opinion it has the best items for a sleepover with your BFF. From the body and hair glitter to the notebook and gel pens, every girl will shine with this awesome box!

Kailyn Kichman
Wishbox is so much fun! Full of amazing surprises every month! What will you get next?

Lorelei Lara