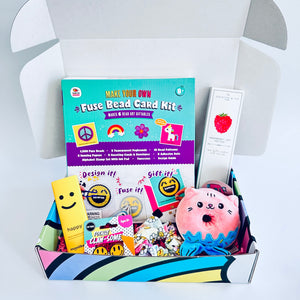 Happy Smile Wishbox includes all the fun happy smiley items. This box will get you in a happy mood instantly especially this Holiday season!
Happy Smile Wishbox includes: 

Fuse Bead Card Kit
Smiley Daisy Tie Die Velvet Scrunchies
Squash Buddies - Donut Shop
Mini Smiley Claw Clips (2)
Vanilla Sugar Cone Crisps 1.6 OZ
Happy Milk Chocolate 1.75 OZ
You will have so much fun with creating bead cards for your friends! Smiley daisy velvet tie dye scrunchies are so luxurious! Mini smiley claw clips are so cute and trending! You can never have enough of squashy donut buddies. They are so adorable and squishy. Each donut will be randomly selected out of the eight adorable designs for your Wishbox. Vanilla sugar cone is crunchy and tasty and Happy moodibars milk chocolate will get you in a happy mood instantly!